Freestyle Swim Accelerator Bundle for time-crunched athletes (Swim Training Plans)
These unique Dryland Swim Training plans with added in-water workouts will help you train more in less time. Easy to follow workouts guided by one of the best swimmers in the world of triathlon.

Jump straight into the 5-Day Catch Challenge when you're ready and catch more water in days!
5-DAY CATCH CHALLENGE
6-WEEK ZEN8 BOOSTER PLAN
12-WEEK ZEN8 + POOL SESSIONS
ZEN8 + BMC PRO TRIATHLON TEAM PLAN
+40 ON-DEMAND ZEN8 WORKOUT LIBRARY (Ever-Growing)
And much more.
Get 8 premium Swim Training courses in 1 pack
THE ULTIMATE ON-DEMAND SWIM TRAINING BUNDLE
WHAT'S INCLUDED?
If you want to swim faster, in less time, you've got to put the time in and be shown exactly how.
With the ZEN8 FREESTYLE SWIM ACCELERATOR SWIM TRAINING BUNDLE you'll get access to On-Demand ZWIM AT HOME™ sessions as well as in-water workouts and drills that will unlock new speed in the water.
Kieran Lindars - European Long Distance Triathlon Champion 2022 & Head Coach here at ZEN8 have put together these plans to help you break through plateaus and Swim Faster. FASTER.

Find everything included in this bundle below 👇
The ultimate SWIM TRAINING Bundle
ZEN

8

FOUNDATION
2 + 4 WEEKS
Just like anything new you try, there will be a learning phase. And with added resistance compared to the water, it's important to get the basics right.
Our head coach will guide you through the basics.
You're now ready for the

"5-Day Catch Challenge"

and some quick wins.
QUICK WINS WITHIN 5 DAYS!
5-DAY CATCH

CHALLENGE
Challenge yourself at home and in your pool with our brand new
5-Day Catch Challenge
.

Your on-demand coach will show you how to improve your catch with the ZEN8 Swim Trainer, and give you 3 in-water sessions to go alongside the work.

Intense, Challenging and rewarding. You will catch more water with every stroke within 5 days.
Take your quick wins from this challenge into the "6-Week ZEN8 Booster" and get closer to swimming better.
START BUILDING FOR A FASTer FUTURE
6-WEEK

ZEN

8

BOOSTER

You will unlock new strength and stamina in these 6 weeks so you can excel in your swimming.

2-3 guided ZEN8 Sessions per week 12-30 minutes at a time.

Simply follow along, and put the work in.

As a bonus, we've added 2 pool sessions to go along with this work if you are currently not following an in-water training plan.
You will love the feeling in the water at this stage but might need an easier week before you jump into the next plan...

Take a break from the ZEN8, focus on the feel for the water and let's jump into the "12-Week Plan"
DRYLAND + IN-WATER WORKOUTS.
12 WEEK

- 3 BLOCKS
IMPROVE

TECHNIQUE

. POWER.

ENDURANCE

.

Coming into OFF-SEASON? Or want to accelerate your swimming before a race? No matter where you're at in this 12-Week Plan you will improve all aspects of your swimming.

Our plans are as always designed around the idea that you're already swimming at least 1-3 times per week. With this plan you will get 1 ZEN8 session + 1 extra in-water session.

If this will be too much for you, simply swap the in-water session for an extra, of your choice, ZEN8 workout from the +40 On-Demand Workout Library (Ever-growing)
You've come far, and you're swimming effortlessly faster with confidence.

At this stage, you will know exactly what works for you, and how to incorporate the ZEN8 in your training.




With the +40 ZEN8 On-Demand Dryland Swim Workout Library (ever-growing) you (or your coach) can add sessions into your weekly training, choosing your favourites.
GUIDED ON-DEMAND ZEN8 WORKOUTS
+40 ZEN
8

GUIDED ON-DEMAND WORKOUT LIBRARY

Get access to every

ZEN

8

ZWIM AT HOME™

Workout here.

Pick and choose depending on how much time you've got, or what you want to work on.

Sessions from 7-30 minutes, to improve your catch and pull, balance, endurance or get-out speed.
Meet your On-Demand Swim Coach - Kieran Lindars.
Kieran won the Challenge Almere and got him the title European Long Distance Triathlon Champion 2022
🏊‍♂️ (3800m) 46:40 🚴‍♂️ 4:22:45 🏃‍♂️ 2:42:54 🕰 7:55:44

Start training with Kieran today!
NOT ENOUGH?
DO YOU WANT MORE?
Ok, let's go. See below FOR SOME BONUSES
FOR ROOKies - pros
ZEN8 + BMC PRO TRIATHLON TEAM SWIM TRAINING PLAN
Designed in partnership with BMC Pro Triathlon Team.
This has been the go-to training plan for thousands of ZEN8 users over the past 2 years, and is included in this bundle as a bonus.
#2 can keep you from panicking.
Can you swim faster without even training?
Yes, you can! Swimming fast during a race also comes down to tactics and understanding currents and drafting.

Head Coach Kieran Lindars will show you his best kept secret on how to execute a perfect race in these 5 Open Water Race Tactics.
The ultimate Bundle
12-WEEK OPEN WATER SWIM PLAN WITH IN-WATER DRILLS.
Kieran shares his favourite in-water drills for open-water in these 3x4week blocks specifically designed to help you swimming faster in the open water.

Bring with you the experience from the previous lessons, and you will smash it in the open water.

ZEN8 workouts are included as always.
Courses included
TO SUM IT ALL UP
\Learnworlds\Codeneurons\Pages\ZoneRenderers\CourseCards
Our great offer
Freestyle Swim Accelerator Bundle for time-crunched athletes (Swim Training Plans)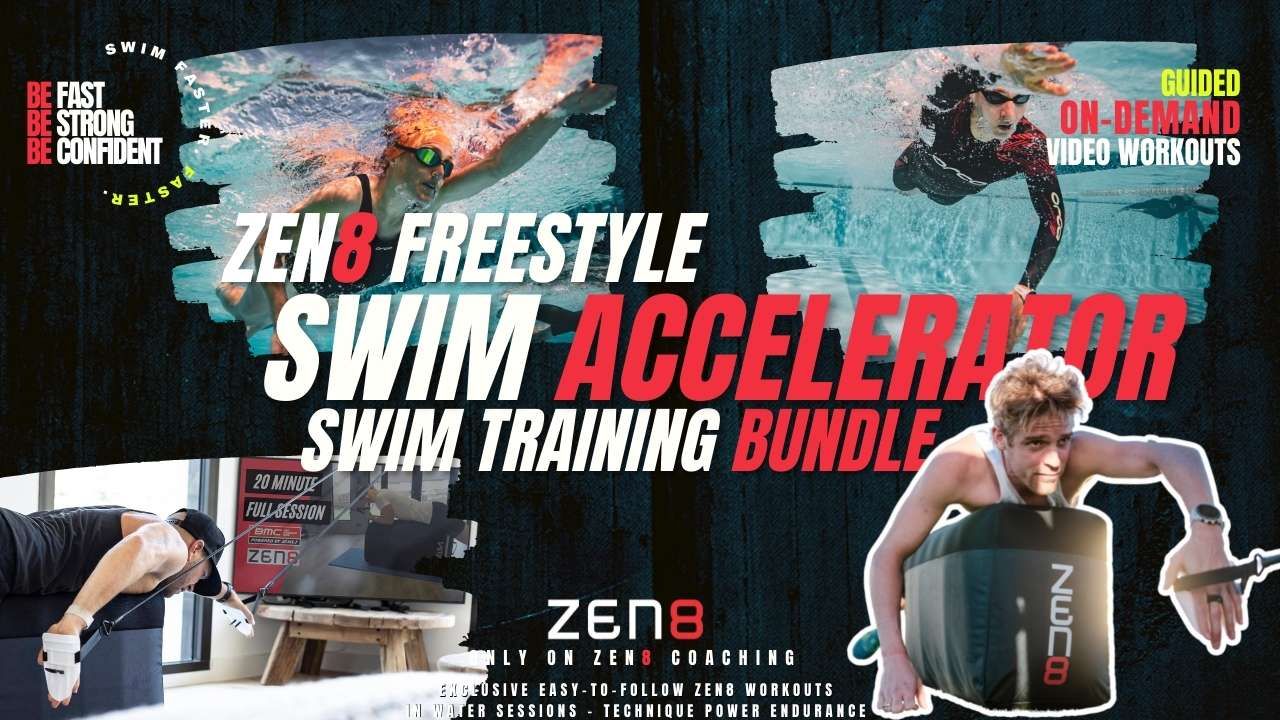 Created with